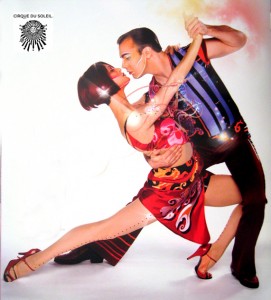 In 2007, Eva and Patricio ran away to join the circus — Cirque du Soleil! Now, after more than 2 years of absence they are back with even more Tango! They will be back in Seattle for a limited period of time. Seattle Tangueros are in good luck this fall. Eva & Patricio will offer not just a weekend of workshops, but a whole month of weekly classes as they used to do when they lived here!
Classes will be offered on Tuesday and Thursday evenings starting on November 10 at 7pm. All aspects of the technique, new material, and musicality will be covered. For all of you who miss their classes, this is your opportunity to learn one more time from your favorite teachers. Classes will be held at Bar Sur.
Eva & Patricio are born in Argentina. They lived in Seattle for 5 years, teaching Tango throughout the U.S. and especially in the Seattle-Tacoma area. Their classes are a great learning experience, full of material, detailed information, and a friendly atmosphere. They have more than 15 years of experience on the dance floor and on stage. They performed with the most famous companies, including Forever Tango and Cirque du Soleil. If you started to dance after they left town, do not miss this opportuniy to learn from them!
Private lessons with Eva & Patricio are available by appointment. Please contact Patricio directly by e-mail at depatricio@gmail.com