[posted on behalf of Lisa Fernow, Seattle Tanguera, lisafernow.com ]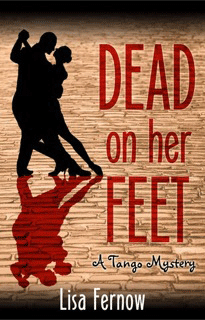 Announcing "Dead on Her Feet"
I'm very pleased to announce that Dead on Her Feet officially launched Valentine's Day weekend at one of the premiere tango events in the US, ValenTango. This classic mystery follows in the tradition of Ngaio Marsh and Elizabeth Peters, and is now available for sale in paperback or ebook formats at Amazon, Barnes & Noble, iTunes and Seattle Mystery Bookshop websites.
Barbara Durr of Atlanta / DC and Bill Petersen of Seattle advised me on some of the more nuanced points of tango. While I've danced tango since 1996 I know I'm just beginning to walk. A big thanks, also, to Clay Nelson for giving me the opportunity to officially launch the book with a reading and book signing at ValenTango.
More details are below. And visit lisafernow.com if you want to learn more about the world of tango, participate in the conversation, or just lurk.
From Booktrope Publishers:
For those who dedicate their lives to "chasing the ghost," searching for that elusive moment of perfect connection on the dance floor, tango is a drug. A drug that proves fatal.
When a much hated member of the Atlanta tango community is stabbed in the middle of a dance, the last thing tango instructor Antonia "Ant" Blakeley wants to do is help the police work out how someone could have struck the fatal blow unseen. Her troubled nephew is first on the list of suspects, and she'll do anything to protect him. Unfortunately for her, she's up against Detective Sam Morrow, a former marine who will do anything to get to the truth. Only one of them will get what they want.
Praise for Dead on Her Feet:
Murder, mayhem and milongas. Dead on Her Feet is a smart, stylish debut. The backdrop may be a tango studio but Lisa Fernow knows her stuff off the dance floor as well, creating interesting, well-defined characters and a clever plot.
— Rosemary Harris, Author of The Bitches of Brooklyn and Pushing Up Daisies.
Tango never felt so primal, so sexy, so treacherous. The devil's own choreographer must have inspired the danza de la muerte in Lisa Fernow's terrific debut novel.
— Skye Moody, Bestselling Author and Mystery Novelist.
Dead on Her Feet seduces you into the world of tango and then plunges you into a tantalizing mystery. Sharp, witty, and clever by turns, tango instructor Antonia Blakeley and her intriguing friends will keep you reading relentlessly. Dancing with the Stars move over; author Lisa Fernow clearly has all the right moves.
— Chapple Langemack, Originator of King County Library System's Readers Services Program.