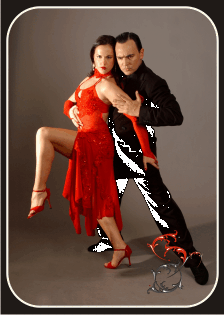 Oscar and Georgina Mandagaran:
Power. Grace. Charisma. And crystal clear technique that works.
USA TOUR 2014: Bellingham and Seattle, Oct 3-7
A solid curriculum with enough material to inspire and improve your tango all year.
Hosted by Rebecca's TangoLife
Facebook Event Listing: https://www.facebook.com/events/282564311946740/
Fri, Oct 3: Milonga Cachirulo at Belltown Dance Studio, 2217 3rd Ave, #102, Seattle
1. Adornos for Romantic music, women and men, all levels. Pre-milonga class, 7:45-9 pm.
(A. Milonga Cachirulo, 9-1 am, $10 at the door. DJ Amy Allison)
Saturday and Sunday: TangoLife at the Majestic, 1027 N Forest St, Bellingham
Saturday, Oct 4:
2. O&G Secrets—techniques you can't live without!, beginners and all levels. 2-3:15 pm
3. Rhythmic tango (dancing to D'Arienzo, Tanturi, Canaro, etc), all levels. 3:30-4:45 pm
(B. TL "Off the Record" Milonga, 8:30-12, $10. Split Djs: Jim Dickinson on records, and Richard Miller of Chicago)
Sunday, Oct 5:
4. Romantic tango (dancing to DiSarli, Pugliese, DeCaro, etc), all levels. 2-3:15 pm
5. Vals de Buenos Aires, all levels. 3:30-4:45 pm
(C. TangoLife Milonga, 6:30-10:30, with performances, $15. DJ Stephen Brady of Seattle.)
Monday & Tuesday: TangoLife Studio, 2610 Likely Ct, Bellingham
Private lessons noon-7 pm
6. Monday: Semi-private group class, topic TBA 8-9 pm
Workshop Prices: 1 class: $35, 2 classes: $30 each, 3+ classes: $25 each. Cash at door.
Private lessons: $120/hr (or $100/hr if you take 2+ group classes)
Register: PLEASE RSVP ASAP by Email to Rebzebb@msn.com, (ie: "Sign me up for class 1,3,4 and milongas A and C." ) Even your estimated plan will greatly help with the lead/follow balancing act. Or text/call 360-739-0685.
Hawaii: http://www.youtube.com/watch?v=OFL_pGl7Jc8
Italy: http://www.youtube.com/watch?v=tkRyRMoa7Vg
Italy milonga: http://www.youtube.com/watch?v=PoglIPIfM4Q
Facebook Event Listing: https://www.facebook.com/events/282564311946740/