Alicia Pons And Luis Rojas
"Close-Embrace" – "Milonguero-Style" Tango March 18-20th, 2016
Alicia Pons from Buenos Aires, a master teacher of the "milonguero style" is on her 15th year visit to Seattle, during her tour of the USA. She will display her unique pedagogical methods in partnership with Luis Rojas, a spectacular close-embrace dancer. Classes will focus on the fundamentals and advanced technique of the most popular Argentine style. This is a progressive course for "all levels" students. Experts or beginners can find it exhilarating and enormously useful.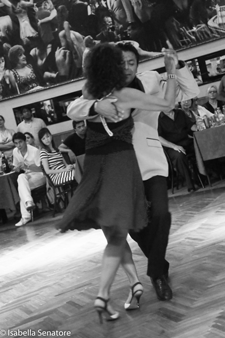 Photo copyright Isabella Senatore, used with permission
"The Secrets of the Milongueros"
Caminatas (walks): Parallel and crossed systems: leading with intention, not force
Deep, Circular Embrace, and Salidas (openings): direct, crossed system and circular motion.
Weight Changes: at different speeds, essential for all music, especially the milonga
Classic Ocho cortado (Cut forward "8") and variations
Interpreting Different Orchestras and Rhythms: Biaggi and D'Arienzo
Turns ("giros") and Counter-turns, velocity changes and acceleration in the turn.
Milonga (Luis Rojas specialty): "Milonga Lisa" (smooth walk) and with "Traspié" (Tripping);
Turns in double-time; "corridas" (runs) in different directions; and tips for dancing on a congested floor.
All Workshops Will Be At Dance Underground, 340 15th Ave E
Please Pre-register for all classes at: IntrepidTanguera@gmail.com
Friday March 18th, 7.00 to 8.30 PM: "Follower's technique" (for Women Only)
This is the class that established Alicia Pons as a "master teacher," emphasizing the woman's role in the dance and her body mechanics.
"Getting my body ready to dance": Feet, axis and weight, balance, changing weight and movement,
"I dance too" (I contribute with my intention): Sensitivity to the lead; How to make it prettier; my embrace; walks and runs; ocho cortado; back ochos; turns.
Saturday March 19th:
From 1 to 2.30PM Tango Milonguero for leads and follows
From 3 to 4.30 PM Milonga lisa and traspié
Sunday March 20th:
From 1 to 2.30PM Vals milonguero
From 3 to 4.30 PM Advanced couples only (Pre-reg.)
This class is for a limited number of advanced–couples with at least two years of intensive experience. It will cover: creativity and musical expression; changes of velocity and direction; communication: a dialog where partner's bodies listen and influence each other's dance; dancing the pauses and the silences; using energy transfers and not a physical force.
Cost: $ 35.00 for one class only, or $30.00 for each of two or more classes.
Private classes: March 17th; 21-23th. $110.00 with either teacher, $180.00 if both. Scheduling for private classes and "couples-only" class: Armando/Diana at 206-232-2580 (H) or 206-427-4036 (M).
Organizers: Armando Lindner, and Amy Allison.
Milongas: both teachers will perform at "Cachirulo" on Friday and Dance Underground on Saturday.
VIDEOS: Alicia Pons and Luis Rojas
https://www.youtube.com/watch?v=k5dYz6JOt1c Alicia and Luis Salon Canning in BA last month
https://www.youtube.com/watch?v=h7kNgLDlpcI At Cachirulo in BA, Alicia's B'Day 2016
https://www.youtube.com/watch?v=Vx4hYIBrfoU Dancing Milonga at Salon Canning
https://www.youtube.com/watch?v=ioaM7k5njRA At the Chicago Milonguero Festival, 2015