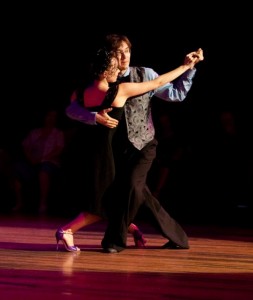 website: LaVidaStudio.com
contact: 425-503-1282
Anton and Kristina teach Argentine Tango at LaVida Studio in Bellevue. They both started to dance tango in 2004 and since then has never stopped. Together, they have created a unique style full of energy, feelings and musicality. Through out their tango journey, they were most influenced by such teachers as Julio Balmaceda & Corina De la Rosa, Sebastian Arce & Mariana Montes, Jaimes Freidgen and Pablo Inza. Besides their dancing, Anton and Kristina are well known DJ-s in the Seattle area. Often you can find Anton spinning the Traditional Tango Music, and Kristina – the Alternative Tango Music. Full information about their tango classes, workshops, and events http://www.lavidastudio.com/
Anton and Kristina also organize various workshops with visiting tango instructors, please, contact them directly for more information 425-503-1282.
Kristina has been teaching Argentine tango since 2007. Her background in dance choreography, ballroom Latin, and belly dance, as well as yoga practice nowadays help her to understand the natural way of the body movement. Thus, she easily reads each students' body movement patterns and develops the unique way to communicate information. She addresses students' specific needs helping them to learn tango in a most effective way. Kristina is also a certified yoga instructor.
Anton is a well known tango DJ, dancer and organizer. Besides tango Anton has a Master's degree in Computer Science and works as a senior software engineer.