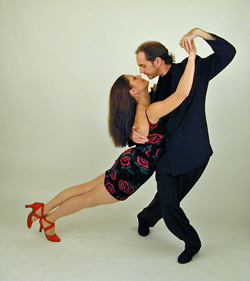 Evan Wallace fell in love with the Tango in 1996 after fulfilling a random New Year's resolution to "take a dance class." Within months, he quit his job and traveled to Argentina, beginning an enduring obsession with the Tango. He has been dancing, teaching, performing, and hosting milongas in Seattle ever since.
Evan's passion for the Tango has led him frequently to Argentina and other Tango communities throughout the world in pursuit of refining his craft. During a long partnership with Michelle Badion, he taught and performed alongside the world's finest Tango artists, including six Portland TangoFests, international festivals in Las Vegas, and in many other events in the U.S., Canada, Mexico, and on Tango at Sea Cruises around the world. He and Michelle have also been featured in many cabarets and traveling stage shows such as Tango Nights, Tango Dreams, and Tangoing, where they were the only non-Argentinians in the cast.
Evan is known for a style of Tango that combines the elegance and intimacy of the close embrace with elements of the dynamicism, movement, and creativity of open-embrace styles. It is a style that is uniquely his own, and figures significantly in the way he teaches the dance.
As a former physicist, Evan draws heavily on his scientific background to lend a unique analytical perspective to all of his classes. Using insights from a variety of sometimes unexpected sources, Evan helps his students discover and understand the physical principles underlying the dance, so they can better connect to the endless beauty, sensuality, strength, and passion of the Tango.