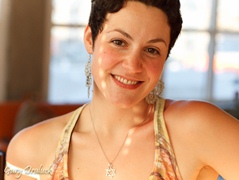 website: gabrielacondrea.com
facebook: Tango is About the Connection
email: info@gabrielacondrea.com
phone: 206-778-3239
Gabriela Condrea is a traveling Argentine Tango teacher and author of the book When 1+1=1: That "Impossible" Connection (now also in Spanish!) – on tango and life and interpersonal relationships. A teacher(sharer) by trade, she has a Master's in Education, a Bachelor's in International Relations & Italian Language & Literature, taught 8th Grade Language Arts for 4 years (2 years in the competitive Teach for America program), taught gymnastics at Seattle Gymnastics Academy for 10 years, and has been teaching something (languages, ready & writing, gymnastics, mathematics, tango) for over 18 years. Between travels, you'll find her at home in Seattle or in Buenos Aires, sharing the lessons she's gathered from dance floors far and wide – from her intensive studies in Buenos Aires (where she first met tango) to Europe and all over North America – through workshops, classes, and private lessons for dancers of all levels (beginner – intermediate/advanced).
Tango is About the Connection, Gabriela says. Her approach to teaching technique, specific movements, musicality, space, and play – to the dance as a whole – centers around the pivotal and elusive goal of building the connection between partners, amongst the group, and within one's own body. Although we often approach tango from the outside, what we find most memorable is usually on the inside. Gabriela explores and shares tango from the inside-out.
Gabriela is also available for private tango lessons, performances, seminars, interactive book and tango presentations, and private events. Please visit http://www.GabrielaCondrea.com/ for more information.