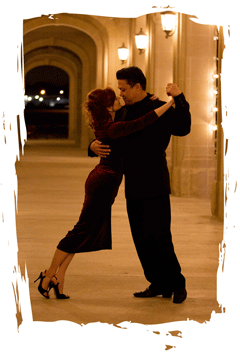 email: roberts.kai@gmail.com
K'ai Roberts Fu has been dancing since she was three, and teaching dance since the age of thirteen. A Phi Beta Kappa graduate of Washington University, K'ai specialized in jazz dance and musical theater throughout high school and college. Her training as a percussionist contributes to her rhythm and musicality in tango.
K'ai was introduced to Argentine tango in 1999, and by 2001 was co-teaching classes and twice-yearly Tango Boot Camps in Honolulu, HI. She has taught workshops in multiple locations including San Francisco and San Luis Obispo, CA; Bloomington, IN; Dallas, TX; and Maui, HI. A huge fan of milonga (the dance), in 2004 K'ai pioneered "March Milonga Madness" an annual month-long immersion series for advanced dancers.
K'ai has studied intensively with Susana Miller, one of Argentina's leading experts in close embrace, or "milonguero," tango, since 2003. She has acted as Miller's teaching partner in multiple festivals and workshops. Over the years she has partnered other tango luminaries, including Carlos Gavito and Jorge Torres, in classes and workshops throughout the U.S.
K'ai's performance credits include the Japan World Tango Festival, Tango at Sea Cruise, and the Maui Tango Festival; and together with Grant Fu, the "Noche de Amor" tango review, the Dallas Tango-Thon, and SMU's "A Night in Buenos Aires."
Grant Magnus Fu first discovered tango in 1999, the year the original cast of Forever Tango (including Carlos Gavito and Jorge Torres) performed in Honolulu. An entrepreneur with a successful video production and event company in Honolulu, as well as an actor, DJ, and Waikiki Karaoke host, Grant found little time to add dancing to the mix until 2008…after he expanded his company to Dallas, TX and began studying with George and Jairelbhi Furlong of Evolution Tango. In late 2009, he began co-teaching weekly classes – and the occasional Tango Boot Camp – with milonguera K'ai Roberts (now his wife as well as tango partner) under the banner of "Tango North Dallas".
An aficionado of traditional close embrace tango, Grant has received extensive coaching from Susana Miller of El Beso; and Marcelo Solis of La Esquela de Buenos Aires. A man with a flair for showmanship, in performances Grant follows in the tradition of his stylistic hero, Carlos Gavito, dancing "show milonguero" to delight audiences and inspire new fans of traditional close embrace tango.
Grant's performance credits include the "Noche de Amor" tango review, the Dallas Tango-Thon and TangoRama, and SMU's "A Night in Buenos Aires."
As Tango Instructors, Grant and K'ai focus on social dancing in the close embrace, with emphasis on clear, considerate, rhythmically-aware leading; and engaged, responsive, melodic following. The fundamentals they teach can be transposed to any form of tango. With dancers who share their passion for close embrace, Grant and K'ai enjoy sharing the "secrets" of the milongueros: those seemingly magical, subtle techniques of lead and follow that cannot be learned from any video or book, and were passed to them directly by dancing with tango's great masters…as well as the everyday heros and heroines of milongas around the world.
Grant and K'ai relocated to the Seattle area in January, 2013. They are currently available for private lessons for beginning through advanced dancers, and will begin teaching classes in Renton in September 2013 under their new moniker, "Tango 42."