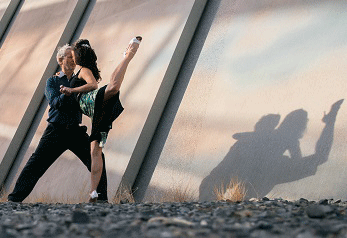 email: gregrolnick@gmail.com
phone: 206-755-8947
Greg Rolnick's dance training and performances began with ballet and modern dance in San Francisco, touring and performing with modern dance companys throughout the U.S. and Europe. In 1997 he became totally devoted to Argentine Tango when Fabian Salas came to teach at the Century Ballroom for two months. Since then he has taught and performed in California, New York, Hawaii, Canada, and Mexico.
Greg's most influential teachers include Sebastian Arce y Mariana Montes, Chicho Frumboli y Juana Sepulveda, and Mario Consiglieri y Anabella Diaz- Hojman. Greg's ongoing study of the Gyrotonic Expansion System is helpful to promote relaxed, centered, grounded, clear and technically correct movement for the Argentine Tango classes.
Greg and Blair love to dance and teach together.
Blair Kaufer found Tango during her last year of college at Western Washington University and felt immediately transformed and awakened by the dance. She enjoys the complexity and subtlety of the music and appreciates feeling rooted in her own body while connecting with others. Her style has been influenced by a number of professional instructors that she has studied with over the years, which has helped her discover more freedom and vocabulary within the dance. During her most recent travels to Buenos Aires, she studied intensively with Virginia Pandolfi y Jonatan Aguero, Mariana Dragone, and at the DNI tango school. In the local Seattle area, Blair has performed at Folk Life and Dance Underground. Blair's 10 years of experience with gymnastics as both an athlete and a coach has helped her understand the body mechanics and proper alignment for the dance, as well as how to communicate these core movements to students.