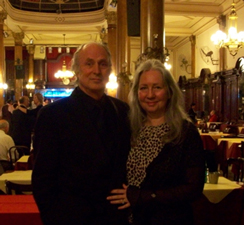 website: got2tango.com
email: gthomsen@comcast.net
phone: 206-409-3154
Greg Thomsen and Gery Rudolph began studying Argentine tango independently in 1996 in Seattle, taking classes and workshops from tango locals and visiting Argentine legends. Their personal tango romance began that first year and they eventually married in 2008.
Greg began teaching Argentine tango with his daughter, Sara Thomsen, a ballroom and Argentine tango instructor at Washington Dance Club. Gery assisted with the classes since their inception. Sara's current schedule precludes her from continuing with the group classes, but she is available for private lessons when she is in Seattle. (Sara now spends time each year in San Francisco, New York, and Buenos Aires). Greg and Gery currently teach the group classes. They specialize in the traditional salon and milonguero (close embrace) styles of Argentine tango, emphasizing technique, musicality, and enjoyment of the sensual aspects of the dance.
Their Thursday night introductory class for beginners repeats every month. The series focuses on the fundamental techniques and steps needed to get out on the dance floor. Students may repeat the intro class at half price to polish their skills.
The focus of their ongoing Thursday night intermediate class changes every month. The class introduces the classic elements of tango and combinations students can add to their repertoire. At least twice per year they teach the tango waltz and the peppy milonga, the other two variations of the Argentine tango triad of dance rhythms. They also cover the nuances of traspie, the syncopated footwork frequently incorporated into the tango and milonga, and the subtleties of the close embrace.
Greg Thomsen and Gery Rudolph are also available for private lessons and workshops. Greg can be reached at gthomsen@comcast.net or at 206-409-3154. Greg also performs with Patty Leverett, an Argentine tango instructor and dance host on the Eastside.