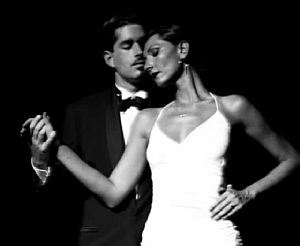 website: moonlighttango.com
email: gregory@moonlighttango.com
phone: 206-683-2749
Gregory Phillips has performed tango extensively both in Seattle and in the San Francisco Bay Area. Notable performances have included the San Francisco International Style Festival, the American Harp Society conference in Tacoma, Michelle Badion's Tango Cabaret, and an annual appearance at Seattle's Folk Life Festival. He has performed with acclaimed tango orchestras such as Montango and Tango #9.
Gregory is best known for his weekly tango show at the Buenos Aires Grill in Seattle.
Besides tango, Gregory also dances and has taught most other forms of social ballroom dance, including, swing, salsa, foxtrot, waltz, cha cha cha, rumba, lindy-hop and polka. He spent three years as a member of Velocity, a jazz dance company based in Arcata, CA. Both in tango and other dance styles, Gregory is passionate about the intimate connection two people make when dancing. This is the focus of his teaching style.