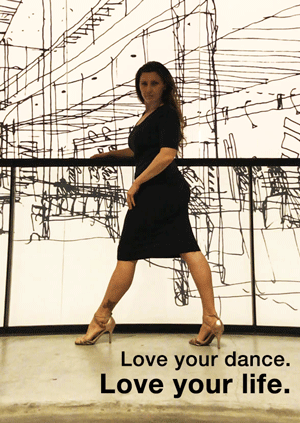 website: www.jordanadelfeld.com
email: jordanadelfeld@gmail.com
phone: 917.742.3602
I love life and embrace it fully. I believe that before you embrace others, you must first embrace yourself. I teach tango from an exploratory viewpoint of self-discovery rooted in solid body mechanics and clean energy practices. I value play, somatic awakening, and grounded focus. I believe good technique is an ongoing journey of finding sustainable ease and comfort in your own body and life. Tango reconnects with ourselves helps us grow as human beings. It teaches us to see life with presence and with truth. I also see it as a meditative form of communal bonding and a great healing power for society and for the individual.
I am on a lifelong journey of growth and exploration, and have shared many steps of that journey with maestros in the US and in Buenos Aires. Some of my most influential teachers have been Ariadna Naveira and Fernando Sanchez, Samantha Dispari and Santiago Fina, Santiago Croce, Juan Cantone and Sol Orozco, Jorge Torres and Maria Blanco, and Alicia Pons.
I believe in cross-training, and learn about my embodied self through yoga, the Alexander Technique, pranayama, and many other physical practices. I love playing with other dances, from swing to ballet to flamenco to Haitian snake dances, and have a background in competitive karate and jiu-jitsu. I am a CA-licensed bodyworker, Reiki Master, and massage therapist. I am also a classically trained fine artist and musician.
I teach tango at the University of Washington. I am also available for private lessons and group classes in Seattle.