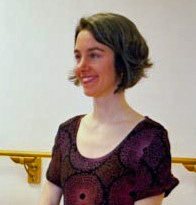 website: dancekepler.com
email: dancekepler@gmail.com
phone: 425-522-2481
Max began classical training in dance at the age of three, and has been partner dancing since 1989. She began her study of Argentine tango in 1997, under world-renowned masters of the craft such as Julio Balmaceda and Corina de La Rosa, Gachi Fernández, and the late Nestor Ray. Since then, she has been a regular member of the tango communities in Los Angeles, San Diego, Eugene, Oregon, and – most recently – Seattle.
Max has danced socially in over a dozen major cities and in three countries. As a result of having lived in five states, combined with additional travel for dance conferences, exchanges, and festivals, Max brings to her classes, practicas, and the local milongas an ability to connect on the dance floor at a level that transcends regional variation.
Max has been teaching Argentine tango to students of all ages since 2001. She is skilled in both leading and following, resulting in a teaching style that is highly interactive. In small and mid-sized classes she gives individual attention to each student, as well as providing feedback to the group as a whole on connection, footwork and timing. She incorporates elements from her training in ballet, jazz, tai chi, and rehabilitative fitness education into skill-building warm-up routines and instructional games, creating opportunities for her students to improve their alignment, balance, and partner connection in a way that supports more natural movement and advanced tango technique.
In Max's classes, development of an individual's dance ability is the goal, and the method is guided cooperative learning amongst students, gentle elastic connection between partners, playful exploration of possibilities, and plenty of fun!
Contact Max at 425-522-2481 or dancekepler@gmail.com to schedule a private lesson. Please visit the Dance Kepler website http://dancekepler.com for details about upcoming classes and live music events.