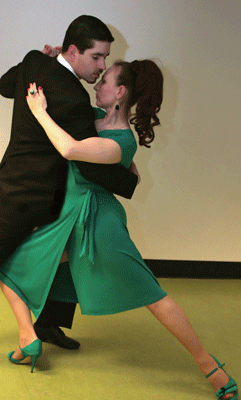 website: LaVidaStudio.com
email: info@lavidastudio.com
phone: 425-643-5433
"Oh, you're Russian! That's why you dance so well!" – I hear this so often. It may be a stereotype that Russians are good dancers, but I tend to think that dancing and teaching dance is truly in my blood.
My primary passion in dance is simply the joy and beauty of expressing music through the movements, and I love to share that with others. That is why I left a corporate job and opened my private dance studio which in 5 years grew and expanded in to a wonderful LaVida Studio in Bellevue, where I teach various levels of tango classes, starting from absolute beginner through advance, Milonga and Tango-Vals.
As a tango teacher my goal is to grow the quality social dancers for Seattle tango community. I stress the importance of learning reliable connection and comfortable close embrace; clear leading and sensible following techniques, balance and musicality. In group classes I encourage everyone to understand what elements the steps are made out of so leaders learn to improvise and create. During private lessons I concentrate on removing issues before they turn into bad habits, help make things work and explain complicated elements and their implementation based on individual's body type, physical ability and personality.
I very much enjoy teaching beginners and those who "got stuck" as I find a way to explain things that suddenly make sense to them, I see the light bulb moment in their eyes, everything starts working out and I get SO energized seeing their progress!
I think Tango is a journey not a destination, so everyone should have an opportunity to benefit from the continuous process of learning and enjoying this dance of sophistication and creative expression.
Students say:
"I have been enjoying the most pleasant experience learning tango from Natasha – the one I call "Maestra Bonita" for over eighteen months, unknowing anything about tango and afraid to step on the dance floor and ask to dance any lady – up to today that as soon as I get into any "milonga" I do not stop dancing until the very last song. Mostly, because she is very professional, savvy, patient to teach, with positive attitude, and great sense of humor encouraging her students to go beyond expectations. Go "Maestra Bonita".
"Not every good dancer is a good teacher – Natasha is both indeed."
"Natasha has a real pedagogic talent. To get my husband to come to class, stay and actually be able to dance was a miracle!"
"What I like the most about Natasha's teaching is "Hands on" experience. For both the lead and the follow to interact directly is great."
"The best dance teacher ever! She knows Argentine tango, all the ballroom and latin dances, is very patient, always encouraging and praising. We took private lessons as a couple and group lessons with small groups and loved the experience! We have been dancing for 12 years with different teachers and this is the best teacher we have ever had. She is fluent in English and Russian and can teach in both languages. We can highly recommend her classes and private lessons."
"Natasha, your descriptions of the movements are very clear and easy to follow and being able to dance with you directly is a great help since you can fine tune things that would never be fixed in a larger setting."
"Natasha is so much fun to work with and she always can find a way to help you understand not just steps but proper technique as well. I am a follow, but I just love dancing with her…"
"Natasha is Helpful, Engaging, Encouraging, Smart, Patient, Funny, Fun, Good communicator"
Natasha's Bio:
Natasha has been dancing since 14 y.o and formerly trained in jazz, modern, tap, belly-dance, flamenco and salsa.
After moving to the United States from Moscow, Russia, competitive Ballroom and Latin dancing quickly became Natasha's passion. After co-founding the Binghamton University Dance Team, she went on to achieve competitive success, winning at her level prestigious regional competitions and placing final at USA DanceSport Championships. She has performed at numerous festivals and major events like Ohio Star Ball, and choreographed stage shows for Children's Dance Theater, Formation dance teams, competitive couples and wedding couples.
When Natasha discovered Argentine Tango she quickly fell in love with it. After her last national Ballroom competition in 2004, she has devoted herself completely to Argentine Tango. She has trained with top teachers both in the United States and Buenos Aires.
Nowadays, many years later, she loves to pass her love and knowledge of Tango to others in very enthusiastic, encouraging, patient, helpful and fun way. She continues with numerous tango performances in Seattle area, teaching and choreographing dances for weddings, private parties and corporate events.
Full information about Natasha's tango classes, workshops, and events you can find at her studio's website LaVidaStudio.com.